Excursion
Golden Temple, Amritsar
Vaishnodeviji yatra, Katra
Rurntek Monastery, Sikkim
More about Excursion...
Wildlife
Corbett National Park
Sepahijala Wildlife, Tripura
Periyar Sanctuary
More about Wildlife...
Fairs & Festivals
Chapchar Kut, Mizoram
Baisakhi, Punjab
Carnival, Goa
More festivals in India...
Adventures & Sports
Mountaineering, Jammu
Trekking, Orissa
Sagol Kangjei, Manipur
More about Sports...
Traditional Crafts
Basket Weaving, Mizoram
Carpets, Kashmir
Zardozi, Uttar Pradesh
More Crafts in India...
Shopping
Tea from Assam
Textile of Rajasthan
Konyak Beads, Nagaland
More Shopping In India...
Hotels & Accommodation
Lake Palace, Udaipur
Cidade de, Goa
Le Meridien, Kovalam
More about Hotels...
Weather
Snow Bound, Uttaranchal
Dry & Sandy, Haryana
Heaviest Rain, Meghalaya
More on Weather...
Indian Hotels & Restaurants
An Online Directory of Hotels & Restaurants of India that lists the most accurate & Complete details of Hotels located in the different corners of India.
Articles on Indian Tourism
Handy Tips For Driving Holiday
Twelve handy tips to get your car ready for your driving holiday.



Driving holiday to the North Indian Places
A driving holiday to the north promises to open up a whole new dimension to your family holiday. Plan, drive and enjoy yourselves thoroughly, then let us say, "we told you so".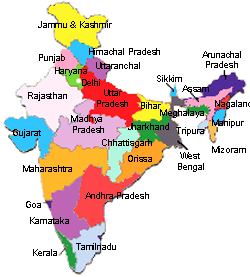 Central India
Madhya Pradesh
Madhya Pradesh, one of India's most traditional states is known for its innumerable fairs and festivals. Splendid structures of the ancient and medieval period enhance the beauty of this state.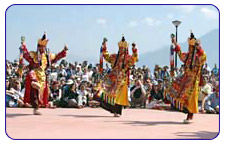 Chhatisgarh
Chhattisgarh, a 21st Century State, came into being on November 1, 2000 is a land of opportunities. 12% of India's forests are in Chhattisgarh, and 44% of the State's land is under forests. Identified as one of the richest bio-diversity habitats, the Green State of Chhattisgarh has the densest forests in India and rich wildlife.
Languages
India is a country with varied and unique languages different from other countries.Most of them relate to one of the officially recognized languages and there are about twenty-two languages identified for regular use in the country.The languages spoken in India at present has evolved in different phases of Indian History.Hindi is recognized as the official language of India. It is believed that arrival of aryans and dravidians has led to the birth of language in India.
Cuisine
Indian food is known for its diversity, taste and flavor. The speciality lies in the style of preparation of variety in cuisine. The Indian meal is a "Wholesome meal."