Traditional Crafts
In a country as diverse and complex as India, it is not surprising to find that the traditional art here reflect the rich glories of the past, the culture, traditions and values relative to geographic locations and the numerous distinctive manners and habits that will always remain truly Indian.
The rich craft heritage of India is unique and diverse as its customs and traditions. Each part of the country has its own unique cultural ethos, which is manifested in the handicrafts of that particular region. Indian crafts and handicraft traditions are influenced by local topography, climate, and socio-religious factors. These craft traditions have withstood the ravages of time and numerous foreign invasions and continue to flourish till date owing to the assimilative nature of Indian culture and broadmindedness of the craftsmen to accept and use new ideas.
Indian craft tradition has no parallel in the world, in diversity as well as in technique and use of materials. The craft traditions of India vary from region to region. These crafts not only cater to the day-to-day needs of the people but are also used for decorative and religious purposes.
Given below few of the exclusive Traditional Crafts of India, (click for more information)
Basket Weaving and Mat Making
Man has know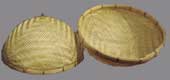 n basket weaving and mat making crafts since the dawn of history. It is thus one of the oldest craft forms. The tribals do most of the basketry and mat making work in India. The tribals, to reflect their art and culture have used cane and bamboo since ancient times. The materials used for basket, mat weaving and cane work are simple and found in abundance. Locally available natural material like grass, reeds, leaves etc is used for mat and basket making. Jute, coir and bamboo are also used in basketry and in making mats. States like Bihar, Orissa, Tamil Nadu, Madhya Pradesh and the North-Eastern states like Sikkim, Meghalaya are known for their basket weaving and mat making traditions. The production of cane furniture is on the rise these days.
Jute and coir are relatively new materials, which are being used in various making various items. Coir fiber is obtained from coconut husk after a lengthy process. Kerala is the largest producer coir products, which range from mats, mattresses, pillow-covers, carpets, bags, wall hangings etc. Coir items and popular due to their durability. Jute, known as the golden fiber is the cheapest natural fiber. A variety of utilitarian items are created using jute. West Bengal is the largest producer of a variety of jute crafts, which range form: mats, floorings, cushion covers, table covers, bags, garments, stuffed toys etc.
Carpets and Floorings


Carpets and Floorings are an integral part of Indian homes. Carpets and floorings are made up of a variety of material, ranging from wool, cotton, silk, jute, coir, bamboo and grass. The Mughals introduced the art of carpet weaving in India and set up centers at Ara, Delhi and Lahore to train and produce carpets of Persian style following the designs of Kirman, Isfahan, Herat, etc. The contemporary Indian craft of carpet weaving is the offshoot of the Mughal tradition and follows the Persian style of carpet weaving.
Kashmir is known for its silk carpets while Bhadohi- Mirzapur belt in Uttar Pradesh is the leading hand knotted woolen carpet-producing center in the country. Tufted woolen carpets are gaining popularity these days. Gabbe woolen carpets, chain stitch rugs and carpets, and namdas are also made in India.
Woolen durries and mats are other floorings used in India. Durries not only lend colour to the décor of the house but they are also cheap. Mats are made out of a variety of readily available material like, bamboo, grass, jute, coir etc. India has a varied mat making tradition. Bihar, Orissa, Tamil Nadu, Kerala , West Bengal and Norh-Eastern states all have distinct mat weaving traditions of their own.
Clay Crafts and Pottery
Indian has a rich tradition of clay crafts and pottery throughout the country. There is hardly any Hindu festival or ritual, which is complete without the use of earthen lamps or diya. The terracotta tradition is the continuation of the Indus valley traditions that date back 5000 years. India also has an age-old tradition of clay toys and terracotta figures. Terracotta work is centered in the states of West Bengal, Orissa and Madhya Pradesh. West Bengal is also known for unfired clay sculptures. The Bankura terracotta horse is popular all over India. Translucent blue pottery is made in Delhi and Jaipur. Clay crafts are deeply rooted in the tribal societies of our country.
Gems And Jewelry
The discussion about Indian crafts and culture is meaningless without the reference to gems and jewelry. Indians have been obsessed with use of gems and jewelry from the beginning of Indian civilization. This obsession is not only fuelled by religious practices and myths but also by economic and s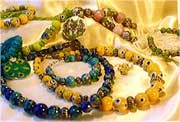 ocial reasons
Jewelry made of gold, silver, copper, terracotta and beads have been found from various sites belonging to the Indus valley civilization. Though there is some reference to ancient jewelry making, the Mughals rulers took jewelry making to new heights. Not only Islamic designs and motifs were incorporated into the Indian jewelry tradition, but new techniques like enameling, damascening, engraving and inlaying were introduced by them. The richly adorned and embellished peacock throne of the Mughals is the finest example of their excellence in working with precious metals and stones.
There is a profusion of jewelry styles across the country. All sorts of material like gold, silver, copper, coral, pearl, precious and semi-precious stones are used in making jewelry. Each region has its own distinct flavor, which reflects local tradition and influences. Rajasthan and Delhi are known for meenakari and enameling. Pearl jewelry is common in Maharashtra and Andhra Pradesh. Gold and silver jewelry is common to most regions of the country. Silver predominates most of the traditional jewelry of the tribals.
Gems and semi-precious stones have been used by Indians not only in jewelry pieces but also for medicinal and astrological reasons. India is the largest importer of gold in the world and it has the largest gem cutting and polishing industry in the world.
Glassware
Glass has fascinated human beings since the dawn of civilized world. Glass is not only used in making utilitarian items such as bowls, bottles, lampshades, perfume bottles, bangles etc, it is also used for making small decorative items such as toys, beads, paintings etc. Ferozabad and Saharanpur in Uttar Pradesh are known for their glassware.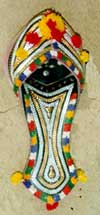 Leather Craft
Indians have known the art of tanning since the time of the Indus valley civilization. Popular leather items are footwear, bags, saddles etc. Kohlapur is known for its chappals. Rajasthan is the home of decorated leather products; Mojdis or thick shoes are made of locally cured leather, they are decorated with silk, metal embroidery and beads. Bikaner and Jaisalmer produce decorative saddles for horses and camels. West Bengal is known for it's decorated leather bags. Ornamental work on leather can found in crafts of Punjab, Kashmir and Karnataka. Items like lampshades, pouches, stuffed toys etc are also made of leather.
Metal Crafts
Indian craftsmen had mastered the art of metallurgy 5000 years back. The lost wax process was known to the ancient craftsmen in making pots and sculptures. Metal craft is an integral part of the Indian ethos: pots, utensils, vessels, tools, weapons etc have been made out of a variety of material like iron, copper, bronze, bell metal, white metal, silver etc. The Ladakh region of Kashmir is known for traditional vessels made out of iron and brass. Moradabad is world famous for its array of utilitarian brassware. Engraving using traditional motifs is also done on items made in Moradabad. Making of bronze sculptures is common in Palitana in Gujarat, Vishnupur near Calcutta, Balasore in Orissa and all the Southern states.
Painting
Painting is one of the earliest known activities of man and India is no exception to that. The earliest known paintings can be found in the Bhimbetka caves of Madhya Pradesh. The Ajanta caves is another milestone in the Indian history of painting, not only were the artists rendering realistic images, but they were also well versed with the art of making frescoes. The miniature paintings under the Mughals was the high point of painting in the yester years. Different areas of India have different painting traditions. They differ from each other in technique, style, use of material and rendering of the subject, owing to regional and past influences. Ladakh is known for its Thanka paintings. Tanjore is known for ornate glass paintings. The different miniature schools of Rajasthan lend color to this arid land. India also boasts of numerous tribal and folk painting traditions: Gujarat, Madhya Pradesh, Maharashtra, Bihar, Orissa, west Bengal have their own unique painting styles.
Paper -Mache
Papier-mâché articles are made of waste paper and are molded according to requirement. A large number of utilitarian items are made from Papier-mâché. Kashmir is well known for day-to-day articles made from Papier-mâché. Boxes, trays, pots, vases etc are made of Papier-mâché and then they are painted in bright colors. Large items also have gold and silver leaf applied to them. Madhya Pradesh is known for Papier-mâché t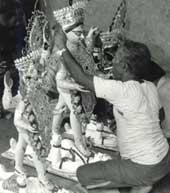 oys and other articles. Punjab is also known for Papier-mâché utensils and storing vessels.
Shola Pith
Shola is a plant that grows in marshy areas. The shola pith has been utilized in Bengal, Orissa and Assam as art decorations. Here decorations for deities are made from shola pith. Craftsmen in Tamil Nadu are famous for structurals in pith products. Pith flowers are made in Karnataka and Maharasthra.
Textile Tradition
The people from the Indus valley civilization laid the foundation of weaving traditions of our country. Ancient texts and archaeological findings verify the rich textile tradition of India. Indian textiles have been popular abroad since ancient times. The legendary muslins from Dacca were the high point of this craft form. Weaving in India has been conditioned by geographical, cultural, economic and social factors. A variety of material like silk, cotton, wool, jute etc is used by the weavers.
Sari weaving is the main weaving tradition of India. There is a mind-boggling array of styles and brocades throughout the country, which are rich in design and color. Mysore, Banaras, Surat, Kanchipuram, Paithan, Chander etc are some of the important sari weaving centers. Woven woolen items are also popular in India. Woolen Pashmina and Shahtoosh shawls of Kashmir are world famous. Woolen shawls from North-Eastern states and Himachal Pradesh are also popular.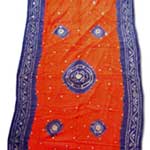 India is known for decorative textiles. Embroidery is the beautification of woven material with various types of stitches. A number of embroidery styles flourish in India, they not only vary in technique but also in design and use of fabric. Punjab, Gujarat, Karnataka and Uttar Pradesh are main centers of embroidery. Appliqué work is also practiced widely in India. Gujarat, and Punjab are known for rich appliqué work. The tribals of Rajasthan, Orissa and Andhra pradesh also practice this craft from.
Tie and dye (Bandhani), hand printing and block printing techniques are common across the country. The Tie and dye technique of printing in particular is popular in the states of Rajasthan, Madhya Pradesh and Andhra Pradesh. A lot of utilitarian items like bed cover, 7sheets, cushions, spreads, garments, curtains etc are created using these traditional textile-printing methods.
Woodcarving and Stone Carving
Indian craftsmen have perfected carving in all its manifestations using a variety of raw material ranging from wood, stone, horn, coconut shell etc. Exquisite woodcarvings depicting gods and goddesses and mythological figures are a common place amongst the carved wood products. Woodcarving is popular in the states of Kashmir, Orissa, Madhya pradesh and the Southern states. The material varies from walnut, redwood, sandalwood and teak etc. Stone carving too is popular amongst Indian crafts and is practiced throughout the country. Delicate marble jali work from Rajasthan and Agra is as popular as the carved sculptures from Orissa and South India. Carving on coconut shells is done in the state of Kerala. Shallow relief carving is also done on conch shells.
Information on Traditional Crafts, arts, handicrafts of Bharat Heritage - India