Cuisine
The Indian cuis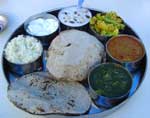 ine boasts of an immense variety not restricted to only curry. An authentic Indian curry is an intricate combination of a stir-fried Masala - a mixture of onion, garlic, ginger, and tomatoes; various spices and seasonings with which meat; poultry, vegetables or fish is prepared to produce a stew-type dish. Note: the word Masala also means spices.
Most Indian cuisines are related by similiar usage of spices. Often, Indian cooking is distinguished by the use of a larger variety of vegetables than many other well-known cuisines. Within these recognisable similarities, there is an enormous variety of local styles.
Food in India is wide ranging in variety, taste and flavour. Being so diverse geographically, each region has its own cuisine and style of preparation. Indian cuisine, renowned for its exotic gravies seems complicated for any newcomer. The Mughlai cuisine of North differs sharply from the preparations of the South. The Wazwan style of Kashmir is luxurious but the same can be said about Bengal's Macher Jhol, Rajasthan's Dal Bati, Uttar Pradesh's Kababs and Punjab's Sarson Ka Saag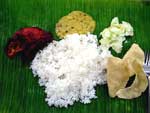 and Makki di Roti. In India, recipes are handed down from generation to generation.
The unique and strong flavours in Indian cuisine are derived from spices, seasonings and nutritious ingredients such as leafy vegetables, grains, fruits, and legumes. Most of the spices used in Indian cooking were originally chosen thousands of years ago for their medicinal qualities and not for flavour. Many of them such as turmeric, cloves and cardamoms are very antiseptic, others like ginger, are carminative and good for the digestion. All curries are made using a wide variety of spices.
In Indian cuisine, food is categorized into six tastes - sweet, sour, salty, spicy, bitter and astringent. A well-balanced Indian meal contains all six tastes, not always can this be accomplished. This principle explains the use of numerous spice combinations and depth of flavour in Indian recipes. Side dishes and condiments like chutneys, curries, daals and Indian pickles contribute to and add to the overall flavour and texture of a meal and provide balance needed.
In the North and the West, Kashmiri and Mughlai cuisines show strong central Asian influences. Through the medium of Mughlai food, this influe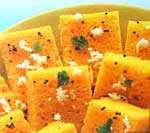 nce has propagated into many regional kitchens. To the East, the Bengali and Assamese styles shade off into the cuisines of East Asia.
All coastal kitchens make strong use of fish and coconuts. The Maharashtrian Coastal parts (Konkan) and Goan Cuisine tastes similar, with the usual consumption of fishes and coconut. However, the Western Ghat region in Maharashtra has its unique spicy taste. The desert cuisines of Rajasthan and Gujarat use an immense variety of dals (Pulses) and achars (preserved / Pickles) to substitute for the relative lack of fresh vegetables. The use of tamarind to impart sourness distinguishes Tamil food. The Andhra kitchen is accused, sometimes unfairly, of using excessive amounts of chilies.
All along the northern plain, from Punjab through Uttar Pradesh and Bihar, a variety of flours are used to make chapatis and other closely related breads. In the rain-swept regions of the North-Eastern foothills and along the coasts, a larg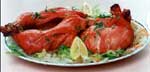 e variety of rices are used. Potatoes are not used as the staple carbohydrate in any part of India.
Modern India is going through a period of rapid culinary evolution. With urbanisation and the consequent evolution of patterns of living, home-cooked food has become simpler. Old recipes are recalled more often than used. A small number of influential cookbooks have served the purpose of preserving some of this culinary heritage at the cost of homogenising palates. Meanwhile restaurants, increasingly popular, encourage mixing of styles. Tandoori fish / Chicken, mutton dosas and Jain pizzas are immediately recognisable by many Indians in cities.
Information on Cuisine of Bharat Heritage - india